MID-RANGE KENYA CAMPING HOLIDAYS WITH TRIPNEST
Mid Range Kenya Safari Lodges, the marvelous outdoors have never been better appreciated than Kenya camping on vacation. Of course, without compromising on comfort levels or service standards.
Mid-range tented camps are available in most of Kenya's parks and reserves, ideally perfect for budget travelers who want a touch of a little comfort above basic Kenya camping trips. All our featured tented camps are in strategic locations close to the game parks' entrance gates.
Mixing a bit of richness with an exemplary slice of outdoor Kenya holiday adventure, mid-range camping (or glamping) is the contemporary way to camp. Our featured glamping safari-style tented camps are equipped with every kind of home comfort you could need on your Kenya safari holiday, including cozy beds, en suite bathrooms and comfortable safari chairs.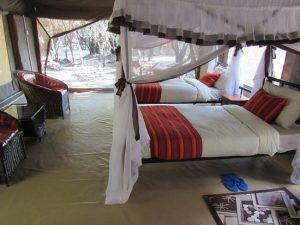 Located in a supreme location, only just a few meters from Maasai Mara's main gate (Oloolaimutia Gate), Enchoro Wildlife Camp provides a homey feeling for all who visit the Masai Mara. The camp has a total of 27 tents among which are standard and superior tents with diverse room options including single, double, triple and quadruple rooms.
Jambo Mara Safari Lodge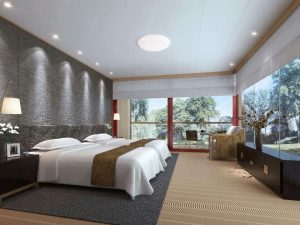 Jambo Mara lodge is located at the heart of the Maasai Mara National Reserve in a jungle surrounded by two streams. The Lodge boasts 108 cottages (50 wooden cottage cabins, 55 deluxe glass cottages, 2 business suites and 1 presidential suite). Each unit enjoys a spacious en-suite bathroom equipped with showers, hand wash basins, flush toilets and a private terrace
Rhino Tourist Camp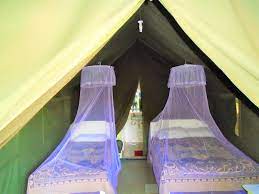 Rhino Tourist camp is located within the Masai Mara Eco-system at the Ololaimutia Gate close to Sopa lodge. It is an exclusive tented camp for those who want a truly wild experience.
Mara Chui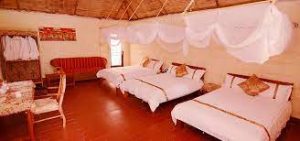 Mara Chui Resort offers accommodation in rooms featuring single bed, twin rooms featuring 2 beds and family rooms. Room facilities include 24 hours hot water shower, flush toilet, electric sockets to charge your cameras, all rooms have a couch, table, chair, reading table light, bathrobes, mosquito nets and hot water.
Hotel Citymax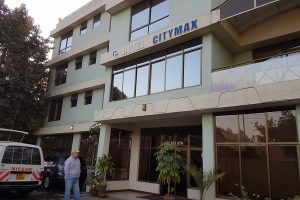 Citymax Hotel offers stylish accommodation, restaurant services and conference facilities. The hotel provides free Internet access, a gorgeous rooftop that puts you close to the town's major attractions along with a complimentary bus service within the town.
 Hotel Waterbuck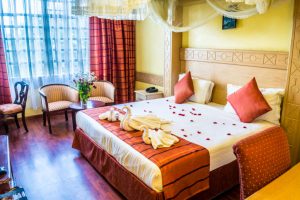 Hotel Waterbuck is located in Nakuru. It offers an outdoor swimming pool. A 3-minute walk from Kampala Coach, the property is also 500 meters away from Uchumi Supermarket (Nakuru). Rooms include a terrace with pool views and free Wi-Fi.
Hotel Bison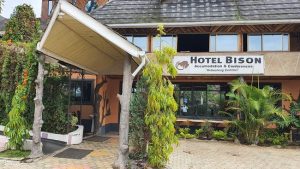 Hotel Bison features 16 clean and comfortable rooms. Some of the amenities include a sport bar with a live DJ, two conference halls, a restaurant and a VIP secret lodge for two.
 Peppercorn Holiday Resort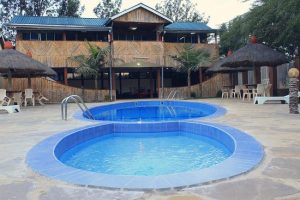 A real home away from home, the Naivasha Peppercorn Holiday Resort is located in the Naivasha County within the Great Rift Valley, minutes away from Lake Naivasha. The resort is the perfect destination for the serious holiday makers or business executive looking for ambient get away accommodation and service in an unmatched serene atmosphere.
Esidai Palace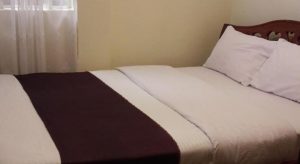 Situated in Naivasha in the Nakuru County region, with Naivasha Sports Club nearby, Esidai Palace features accommodation with free Wi-Fi and free private parking. Each unit comes with a sofa, a seating area, a flat-screen TV, a well-fitted kitchenette, and a private bathroom.
Guest House Jane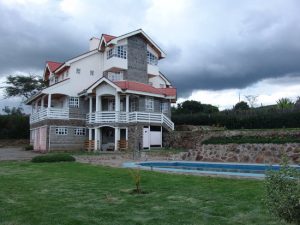 Guest house Jane provides a homey feeling. It is an affordable getaway for all travelers offering Bed only, bed and breakfast, half board, full board or self-catering in a very beautiful garden with pool.
SAMBURU
Umoja Camp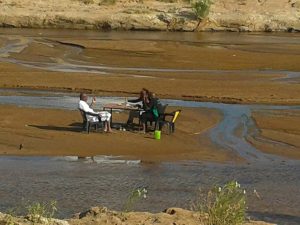 Umoja Camp consists of 12 self-contained and well serviced spacious cottages overlooking the river which reflects the local building style with grass thatched roofs. Rooms are well furnished with private en-suite facilities like flash toilets, separate showers and solar energy.
 Samburu Riverside Tented Camp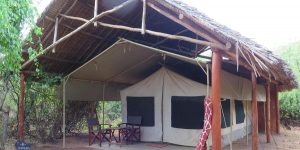 Samburu Riverside Camp is located inside Samburu National Reserve on the Ewaso Nyiro River. It offers a garden, natural, environment with very little interference to the bush and its inhabitants. It offers 8 very private tents, each with outside seating area, double beds, private showers and toilets.
Maasai Simba Camp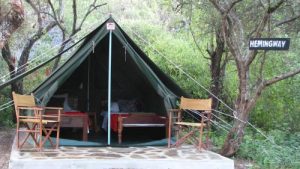 The camp, nested in the deep acacia forest on the banks of the Kiboko River, was built by hand with a rustic charm. The camp is ideal for local safaris to Amboseli National Park and hike to Chyulu Hills. It's a perfect spot for people who love the outdoors. Activities include daily walking safari lead by the Maasai warriors, excursion to Amboseli National Park, meeting with Maasai elders and the women cooperative.
Selenkay Adventure Camp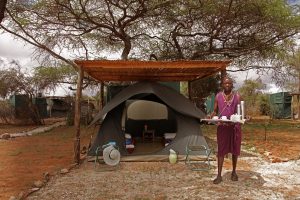 The camp gives access to Selenkay Conservation Area which is a private conservancy in Amboseli. There are 9 small dome tents, each with space for 2 people. Each tent has a bathroom behind with a flush toilet and safari shower.
Little Amanya Camp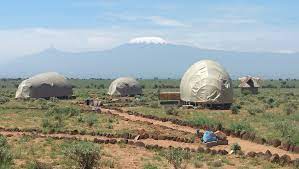 The set-up of Little Amanya camp gives clients an advantage of having a close view of wild animals passing by like, zebras, Ostrich, giraffes and gazelles. It is located next to Amboseli National Park and 3mins drive to Iremito gate. The camp has self-contained spacious tents which are built to accommodate as per clients' needs and preferences.
Lake Jipe Safari Camp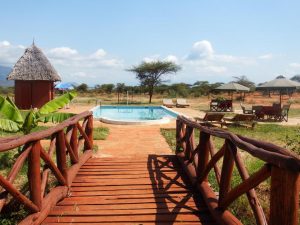 Lake Jipe Camp lies comfortably close to Lake Jipe which borders Kenya and Tanzania. It is also surrounded by spectacular views of the pare mountains and the distant but boasting Mt. Kilimanjaro. The camp promises to offer restoration of a peaceful state of mind.
Ngulia Safari lodge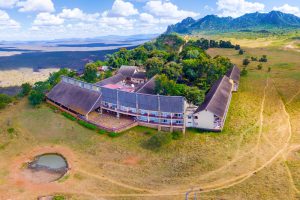 The Lodge is perched on the Ndawe Escarpment just below Ngulia Hills, overlooking the Rhino Sanctuary surrounded by Scenic Hills. Ngulia Safari Lodge no doubt has one of the most breathtaking views in Kenya. The Lodge has 52 standard rooms, all with bath and shower and a balcony with a view of the vast wilderness and floodlit water holes. It has two restaurants: The main restaurant – built in an open-air style, has a view of floodlit water holes and the Leopard dinning tree.
Kivuli Camp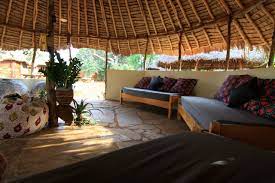 Kivuli Camp is situated in the heart of Rukinga Wildlife Sanctuary, one of the seven ranches that make up the Tsavo Conservancy. The accommodation offers an inexpensive, charming and clean place to stay for all types of travelers.
Kiboko Camp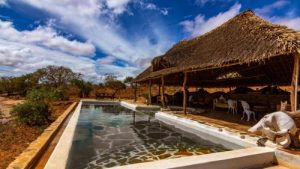 Featuring a special menu and board games, Kiboko Camp Tsavo East offers accommodation in Tsavo. The venue comprises 8 rooms. Guests of this hotel will enjoy free Wi-Fi in public areas and a swimming pool on site.
Satao Tented Camp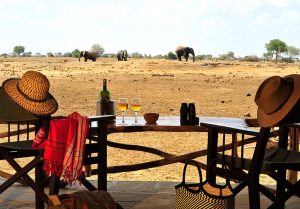 Satao Camp is arguably one of the best locations in Africa for observing elephants from your tent. The atmosphere in the evenings with the Impala and Waterbuck sitting all around you is something quite unique and special. With only 20 tents Satao Camp is small and private. It is located away from the main congested areas of Tsavo so one can enjoy the privacy of being at one with nature.
Ithumba Camp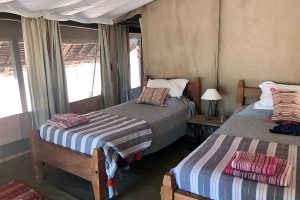 Based at the foot of Ithumba Hill with commanding views across the Yatta Plateau, guests can immerse themselves in the sounds of nature whilst close by is the Ithumba Reintegration Unit which guests have the opportunity to visit.